Train for Missions by Doing Missions
WHAT DOES REACH THE WORLD NEXT DOOR DO IN TEXAS?
Train and equip volunteers to share God's love with people of other cultures by establishing small action groups and taking them out to:
Make friends with refugees
Give health screening and lifestyle coaching
Study the scriptures with Muslims and Buddhists
Teach English
Provide children's programs to touch entire families 
Would you like to know how to share the Good News with Buddhists, Hindus, Muslims, and others?
Would you like to become truly helpful in caring for immigrants, refugees, and international students who are adjusting to life in your country?
Houston church members are eligible for personal mentoring combined with online training.
Contact Pastor Scott Griswold to speak in your church or to schedule an online training event today. You can also call 707-380-9554.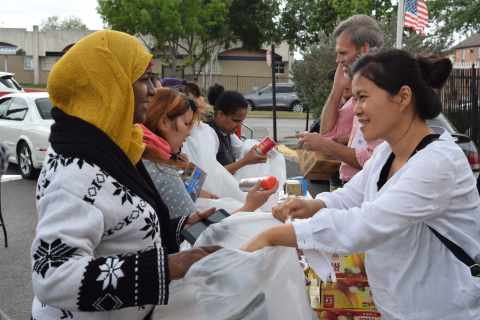 WHY IS REACH THE WORLD NEXT DOOR BASED IN TEXAS?
Texas is home to at least 40 unreached people groups.
Thousands of unreached from Thailand and Vietnam, Pakistan and India, Somalia and Afghanistan and beyond
Enormous numbers of international students
In Houston almost 1 in 2 people speaks another language besides English
Huge numbers of refugees have settled here in Texas.
WHY IS THIS MINISTRY SO IMPORTANT?
God loves every person and every people group in the world. Jesus said He would not return until every people group has a chance to know the truth of the Gospel (Matthew 24:14). God has allowed people of many nations to move to cities and towns near us as He did at Pentecost (Acts 2:5-8) so they could have an opportunity to hear.
"We should be able to see in the multiplying opportunities to reach many foreigners in America a divinely appointed means of rapidly extending the third angel's message into all the nations of earth. God in His providence has brought men to our very doors and thrust them, as it were, into our arms, that they might learn the truth, and be qualified to do a work we could not do in getting the light before men of other tongues" (Evangelism 570).

WHAT IF I DON'T LIVE IN TEXAS
Learn online with a free 13-module training
WHAT IF I WANT TO HELP FINANCIALLY?
To directly help this work among refugees, immigrants, and international students: